MISSION NEWS:
MEXICO
In the San Luis Potosi state on a mountain known as Punchumu, congregations and individuals from the OKC area and Tulare, California are funding a church building project. Building materials are being provided and the Mexican brethren are volunteering the labor. How do you get building materials to the top of a mountain where the roads eventually end? A Volkswagen, it would seem!
In 2008 and 2011 one of our Elders, Bill Adcox, traveled with a mission team as part of the Mexican Mission Fund work. On both trips Bill visited with brethren from churches in Morelia, Moroleon, Ocampo and Salamanca.
In 2015 Bill and Sandy visited the church in Puerto Vallarta where Bro Joel Najera Jr and his wife Paty labor with this congregation started by Joel Jr's father in 2003. Should you be vacationing in Puerto Vallarta Brother Joel and the Vallarta Church of Christ welcome all guests. http://www.mexicomissionfund.org/.
The Church of Christ in Puerto Vallarta also has a FB page: https://www.facebook.com/iglesiadecristopv/info?tab=page_info
Here are some pictures from the 2015 trip:
Puerto Vallarta 2015: Midweek assembly at Vallarta CoC - Bill and Sandy in back seated. Front of Joel and Paty's house where church meeets. Alex - Joel and Paty's middle son praying. David (a local nurse and church member) reading. Joel III in front of congregation. Bottom: the church helped Sandy and Bill celebrate their 35th wedding anniversary with a cake prepared by the local preacher and baker (Joel Najera). Bill and Sandy with the performers from Vallarta.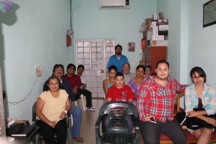 INDIA
We are blessed to be an encouragement to those involved in current mission efforts in India, including fund raising, training works, medical clinics, the establishment of new congregations, construction of new church buildings and providing gospel tools for the native preachers, teachers and church leaders. A special financial fund moved from Lockney, Texas, several years back and is maintained under the direction of the 50th Street Elders.
Additionally, a special Twenty Fund (20F) was established in 2005 with the direct purpose of financing annual mission trips and training works. The goal is to encourage 20 congregations to commit $1000 annually with the intentions of these funds fully financing all travel, training, bible fund and other expenses related to the annual mission trips.
Dr. Caleb Showreelu of Chevella, Urella and Tangidapally receives his primary sponsorship from the 50th Street CoC. Dr. Showreelu runs a medical practice in Chevella, along with attending to three congregations. The 50th Street Church has supported Dr. Showreelu for around 20 years.
MOMENTS OF INSPIRATION
RADIO PROGRAM
KTLR 890 AM hosts Moments of Inspiration every Friday morning at 11 O'clock. MOI is a fifteen minute weekly broadcast on numerous stations in the United States, Great Britain and the Philippines. Each program contains some beautiful songs of praise and a brief message from Scripture. The programs are designed to proclaim Jesus Christ as Savior and exalt him as Lord. Max Pratt of Ballinger, TX., is the current speaker on the program.
You can visit their website: http://www.momentsofinspiration.org
You can hear some of the recent KTLR 890 AM programs right here on our website.
Ozark Christian Camp
Ozark Christian Camp began near Lake Fort Smith, Arkansas, a number of years ago and has had various locations in Arkansas. Most recently the camp moved to Paron, Arkansas and enjoyed another great summer camp this past summer. OCC is a family camp that aspires to inspire families and young Christians in their walk with the Lord. More information about the camp can be found on their website: http://www.ozarkchristiancamp.org/
2015 keynote speaker (2015) was our own Bill Adcox.